Despite the glacially slow pace in which the 2021 MLB offseason has moved up to this point, one area that hasn't been lacking in activity is the trade market for starting pitchers. In the last month, we've seen the White Sox land Lance Lynn during the virtual Winter Meetings, the Padres swing deals for both Blake Snell and Yu Darvish on consecutive days right before the new year, and most recently, the Mets acquire Carlos Carrasco as part of the blockbuster deal that also brought Francisco Lindor to New York.
The starter market still has some good players left over even after all these trades, though, and one name in particular that has been mentioned as a likely candidate to be moved is Joe Musgrove, who looks to be the next Pirate to go after Josh Bell was moved a few weeks ago. On the surface, Musgrove's career 4.33 ERA and 96 ERA+ don't seem overly inspiring, but these figures don't tell his full story, as 2020 was a breakout year of sorts for him. Small sample size caveats apply (even more so because he missed a few starts due to a triceps injury), but Musgrove posted a career-low 3.86 ERA and 3.42 FIP while striking out an excellent 12.48 batters per nine innings. This version of Musgrove wasn't one that we had seen very often before 2020, but it didn't come out of nowhere, as his success was the product of some much-needed adjustments that helped to better utilize his existing skillset.
A Modern Approach
After the 2019 season, the Pirates underwent a pretty significant overhaul to their organizational philosophy on the mound when they fired longtime pitching coach Ray Searage and replaced him with newcomer Oscar Marin, and this change was one that benefited Musgrove a lot. During Searage's decade-long tenure with the Pirates, they adopted a very fastball-heavy approach to pitching, finishing third in overall heater usage over that span and first in sinker usage. Musgrove's first two years in Pittsburgh very much fell in line with this, as between his four seamer, sinker and cutter, he threw some variation of a fastball more than 60 percent of the time.
To the Pirates' credit, this philosophy had shown to be successful in some instances, as it was largely credited as one of the main catalysts behind their well-documented reclamation projects of the mid 2010s. The issue with it in Musgrove's case, however, is that his fastballs have never been very strong offerings.
Musgrove Fastball Performance, 2019
| | Usage% | CSW | xwOBA | Average EV (mph) |
| --- | --- | --- | --- | --- |
| Four-Seamer | 37.6% | 25.6% | .385 | 90.7 |
| Sinker | 11.9% | 19% | .380 | 91.3 |
| Cutter | 8.4% | 24.2% | .367 | 87.9 |
Two problems jump out when looking at Musgrove's fastballs from 2019. First, they weren't particularly great at limiting hard contact, as his four-seamer and cutter were middle of the pack in average exit velocities for their respective pitch types, while his sinker was near the bottom. This isn't necessarily a huge issue on its own, as guys have found success with their heaters despite having subpar quality of contact metrics, but where it became problematic for Musgrove is that he also wasn't missing bats with his. None of his fastballs have overpowering velocity (his four-seamer ranked in just the 34th percentile in that regard), and with the exception of the vertical drop that his sinker gets, none of them have great movement either. The result of this can be seen in Musgrove's CSW rate, as all three variations of his fastball ranked near the bottom of the league among pitchers that threw as many of them as he did.
This high fastball usage meant that Musgrove's secondary pitches, his slider, curveball and changeup, took somewhat of a backseat, even though they were performing much better.
Musgrove Offspeed Performance, 2019
| | Usage% | CSW | xwOBA | Average EV (mph) |
| --- | --- | --- | --- | --- |
| Slider | 22.1% | 35.1% | 0.205 | 83.3 |
| Changeup | 10.6% | 31% | 0.275 | 88.6 |
| Curveball | 9.5% | 40.1% | 0.257 | 90.2 |
Despite the fact that these offerings were used just a combined 42 percent of the time, they all recorded a swinging strike rate of 15 percent or higher in 2019, which as our own Michael Ajeto found in a Going Deep piece around this time last year, made Musgrove one of only five pitchers in all of baseball to have three separate pitches reach this distinction. When Musgrove was using his breaking balls, he excelled at missing bats, but too often he was moving away from them in favor of his other pitches.
What all of these numbers illustrate is that the Pirates' fastball-centric philosophy may have been what was holding Musgrove back, as this approach didn't let him play to his strengths as a pitcher nearly enough. The aforementioned hiring of Marin as their new pitching coach prior to 2020 changed things, though. From the moment he took the job, he spoke a lot about maximizing his pitchers' stuff, and one of the main things he set out to do was find what his guys did well and have them do more of it. This may sound like prototypical coach speak, but you'll see that it became something tangible when you look at how Musgrove's pitch usage transformed this season.
For Musgrove, this is how maximizing his stuff manifested itself. In a shift that has become increasingly common in recent years, he decreased the usage of his four-seamer pretty significantly, going from 37.6 percent all the way down to 27 percent. The logic behind doing this isn't overly complicated, but it was a change that needed to be made, as the amount of usage that this pitch was garnering did not match up with the results that he was getting with it. Decreasing the frequency in which he threw his four-seamer wasn't the only change that Musgrove made with that specific pitch, however, as he also changed up where he threw it as well.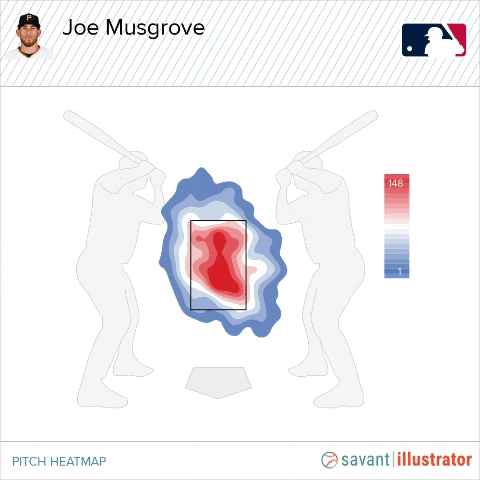 This GIF shows the heatmaps of Musgrove's fastball locations in both 2019 (first picture) and 2020, and the difference between the two is pretty stark. The 2019 version of Musgrove had a much more even distribution across the strike zone with his four-seamer, while this season he pretty much lived at the top of it. This is another trend that has become popular in recent years, with more information coming out showing that fastballs up in the zone have proven to be harder to make contact with than ones in the middle and bottom of it, where Musgrove had been throwing his often. This didn't make his four-seamer any better at limiting hard contact, but it did make it a better swing and miss pitch, as its CSW rate saw a slight increase. More importantly, however, is that helped facilitate the other big change in Musgrove's pitch mix, which was the introduction of his curveball as a primary weapon in his arsenal.
Musgrove's curve increased in usage by more than 10 percent in 2020, which was perhaps the most important adjustment that he made, mainly because it gave him a perfect option to play off of his already great slider. These two pitches are similar in a couple of ways, namely that they both come in at around 81 to 82 miles per hour and both have above average vertical and horizontal movement. The direction of this movement is what makes them hard to differentiate from a hitter's perspective, though, as the curve (aided by a nearly 200 rpm increase in spin rate) featured a heavy drop while the slider is defined by an amount of glove-side break so great that it got Francisco Lindor to strike out on a pitch that hit him on the thigh. The dichotomy between these two pitches allowed Musgrove to keep his opponents off balance more than he ever had in his career, and this relationship combined with the setup provided by a greater volume of high fastballs brought Musgrove to heights he had never previously reached.
Musgrove Plate Discipline Metrics, 2020
| | K% | CSW | SwStr% |
| --- | --- | --- | --- |
| 2019 | 21.9% | 28.8% | 12% |
| 2020 | 33.1% | 34.6% | 14.4% |
Musgrove became one of the best strikeout artists in the league this season, and his shift toward a more modern approach to pitching was the main factor behind it. The swing and miss potential with his breaking pitches was always there, but the fastball-reliant style that he was typecast into handcuffed his ability to reach it. These handcuffs were removed when Musgrove was led to a more sensible pitch mix by the new Pirates' regime that let his best pitches take more of the spotlight, and the most successful stretch of his career as a starter came because of it.
Future Outlook
Even with all the positive changes that Musgrove made in 2020, there are still some obvious areas of improvement. For starters, he might be better served decreasing his fastball usage even more, as any change made to get his offspeed pitches more shine ought to be considered with how good they proved to be with a bigger focus. His walk rate could also use some work, seeing that it jumped to 9.6 percent after never finishing above 5.4 percent since becoming a full-time starter. This can likely be attributed to the learning curve that came with significantly overhauling his pitch mix, and getting back in the area where it was before shouldn't be something that his coaches–whether it be with the Pirates or elsewhere–can't help him with. The improvements that Musgrove has already made cannot be overstated, though, and any starter-needy team might want to pull the trigger on a deal for him sooner rather than later, as good starters with the potential for even more don't hit the market all that often.
(Photo by Rachel Getz Wikimedia Commons/flickr) | Adapted by Doug Carlin (@Bdougals on Twitter)