Can you hear the drums, Fernando?
Fernando Tatis Jr.
(SD):
3-4, 3 2B, 2 R, 4 RBI, BB, SB.
Fernando Tatis Jr. is one of, if not the premier talent in the MLB and Thursday he showed this. 2022 was a difficult year for Tatis; motorcycle injuries, PED-positive tests, and living in the drab, cold, dreary city of San Diego—what a rough year after signing a contract for 340 million dollars the previous year. I'm sure he was just miserable.
All joking aside I'm sure he was disappointed because he could not play the game he loves and be with the teammates he wants to be around. The start of the 2023 season has shown that he has indeed matured. I love that he was jawing with Yankees fans after they did a steroid chant. The man has fun while playing; just because he had a bad year doesn't mean he needs to stop being himself. Just maybe stop riding the motorcycle and cool it on the PEDs. The latter shouldn't need to be said.
Thursday he showed what a talent he is. 3 doubles, 4 RBIs, a walk, and a bag, just for good measure, is a strong stat line, to say the least. The Padres are having a very strange start to 2023 that I think is attributed to how much hype they had going into the year. It's always a curse when teams do the "Hey, we are stacked, let's do a bunch of fan stuff to show how good we are before the season starts. " When will ownership learn?
Tatis and the Padres are going to go on a run. They have to right? There is too much talent on their team to not. Them throttling the Marlins Thursday 10-1 feels like the best place to start. Tatis is probably the top fantasy player rest of the year besides maybe Ronald Acuña Jr. Games like this will continue to pop up as the season goes on.
Let's see how the other hitters did Thursday
Hernandez, always the fan favorite, is also a very good baseball player. Thursday he was a main piece in the Red Sox win over the Cincinnati Reds 8-2. They have been very up and down this season so far but do look like a possible playoff team. If they want to make a wildcard, Kiké is going to have to perform well. He isn't a fantasy asset, but he is also no slouch. A slow Thursday makes him the second-best offensive player, but he is always a threat to put together a strong game.
Gary Sánchez
(SD):
2-4, HR, 2 R, 3 RBI.
Who? Snoop Dogg gif who?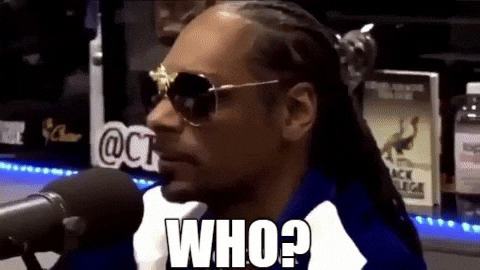 There it is. Why it's Gary Sánchez, back from the dead and in the Padres lineup with his second home run in as many days. I think about the Austin Nola trade a lot for no reason in particular. Padres received Austin Nola, Austin Adams, and Dan Altavilla for Taylor Trammel, Ty France, Andrés Muñoz, and Luis Torrens, who went to the Seattle Mariners. That's, in a word, bad for the Padres. Sanchez is a sight for sore eyes in a Padres uniform even though his catcher defense leaves something to the imagination. They are truly due as far as having a decent catcher, and Sanchez may finally fit the mold. Let's see how that defense holds up.
Ketel Marte
(ARI):
2-4, 2 2B, 2 R, RBI, BB.
I called Ketel Marte a bust for the 2023 season, and he hasn't been a star, but he has not been bad as well. So, let me take this time to personally apologize to Marte, and say that I'm sorry I doubted his health heading into the year cause he's looked solid at the plate. On Thursday, the Diamondbacks were playing from behind all game until Corbin Carroll walked off the Rockies in the 9th. Marte was one of the pivotal runs to win it for the Diamondbacks and complete the 4 game series sweep. He may not look like the potential superstar from years past, but Marte has been playing great baseball in 2023 and I do not expect him to slow down any time soon.
Mark Canha
(NYM):
1-2, HR, R, 2 RBI, BB.
Canha has come a long way since being a Rule 5 draft pick by the Colorado Rockies and then traded to the Oakland Athletics during the Rule 5 draft for a pitcher named Austin House. His time in Queens hasn't been what it was in Oakland, but on Thursday he put up a very Canha line with a 2-run home run and a walk. The New York Mets are looking as advertised if the advertisement was a cursed team. Canha could be the spark they need to start stringing more wins together.
Matt Chapman
(TOR):
1-3, HR, R, 2 RBI, BB.
This was a great sign seeing Chapman hit a home run to start the month of June. May was not a kind month for many people (Gemini season), but it was especially tough for Chapman after his insane April. He is still a valuable fantasy piece, and the home run Thursday sure helps build some confidence. Let's see if Chapman can get hot again, cause the talent is there.
Kyle Tucker
(HOU):
3-4, 2 2B, 2 R, SB.
Kyle Tucker is having a "bad" year. Thursday he continued his "bad" year with 2 doubles, 2 runs, and a stolen base. I understand he may not be having an elite year, but Tucker is so good and someone to not worry about in fantasy. Remember Hunter Pence? Hunter Pence is a poor man's Kyle Tucker. His start to the 2023 season hasn't been picture-perfect, but be patient because an explosion feels right around the corner.
Brandon Drury
(LAA):
2-5, 2B, HR, R, RBI.
Drury has shown a few times on these lists because, even though he isn't producing a 2022 Drury season, he is still playing well. The Angels are always looking to build around Mike Trout and now Shohei Ohtani. Drury hasn't been what they hoped for so far in the 2023 season, but he also hasn't been a complete liability. Drury was a late bloomer, and as such he may require some patience on the fantasy front. Games like this are encouraging.
Kevin Newman
(CIN):
3-4, 2 2B, R, RBI.
Ah, Kevin Newman. Remember when the Pirates were really selling Newman and Bryan Reynolds? Well, one player really turned out and the player who did has a name that rhymes with Spevin Cumin. The Red Sox vs Reds game was a good one today and Newman provided much of the Reds offense. Newman isn't going to wow you with much other than his glove. But Thursday he had a performance worth noting.
Carroll is going to be so good it's scary. As a Rockies fan, it is tough to see all of these Diamondbacks players figure it out in about 2 months and help contribute to their MLB team. Carroll is almost an exception. He doesn't just help the team—he is slowly becoming the team. Thursday he walked off the Rockie on a two-run double. Easy sweep for the leaders in the NL West and the growth of this young man makes the Diamondbacks a possibly terrifying franchise for years to come.