Welcome to the 25th edition of Around the Horn, a recurring op-ed with a satirical slant that riffs on whatever's recently noteworthy in baseball. Think of it as a stripped-down Last Week Tonight or The Daily Show in a column format with recurring segments about the good, bad, and ugly in the world of America's pastime. Additionally, as often as possible, we'll end with an interview as well.
I took a hiatus from this column through the offseason. I figured things figured to remain quiet after last year's cold stove, so I probably wouldn't miss much.
I was wrong. Very, very wrong.
A national cheating scandal, lawsuits, a gender breaking hire… and I haven't even mentioned the 'rona yet.
Make sure you get your terminology right!! 😁 #therona #coronavirus #covid pic.twitter.com/cBU3RahzQt

— ATDean (@WiseAngel2) April 5, 2020
On that note, let's get right to it, shall we?
The Rundown
Our Main Story
Has there been anything in most of our lifetimes that has been as utterly arresting as the pandemic we now face? It has evolved from a distant threat to a crisis that has literally redefined the way we live unless you're Jared Leto.
Wow. 12 days ago I began a silent meditation in the desert. We were totally isolated. No phone, no communication etc. We had no idea what was happening outside the facility.

— JARED LETO (@JaredLeto) March 17, 2020
I mean, who can blame him? Like you wouldn't take a silent meditation over #StayHome right now as you clutch your last roll of toilet paper like Gollum does his "precious" Ring?
Amidst all the chaos and tragedy wrought by this virus outbreak, baseball has been suspended indefinitely. To be sure, this consequence is hardly significant for some, but if you're reading this column, it means something to you, and there is no shame in lamenting the loss of a game that brings such joy to so many.
We've all had quite a lot of time to think about the myriad of possibilities that await MLB this season. Shortened seasons, a canceled All-Star game, and which players and teams could benefit or suffer because of it all.
However, I can't help but think about the bigger picture here. Baseball might be a yearly pursuit of nostalgia and life-affirming joy for most of us, but the players themselves, it represents a finite window to live a fleeting version of themselves. A study in 2007 revealed that the average Major League baseball career lasted about five and a half years.
Think about that. For the majority of players you will hopefully see play this year, MLB baseball will comprise about 7% of their lives, assuming average life expectancy, assuming we see anyone play at all. For them, the virus has robbed them of an irretrievable season in their careers that can never be reacquired.
Without a doubt, we can bemoan the loss of a prime year in Mike Trout's career or that of legends in their twilight like Justin Verlander and Nelson Cruz. We can also wonder about the career trajectories of players like Mike Yastrzemski, Jon Berti, and other late-career blossoms who may wither under the tourniquet of organizational restructuring that could result as a response to this crisis.
For many of us, the delayed start, or even possible cancellation, of the 2020 baseball season will result in disappointment and frustration. Ballpark pilgrimages will be canceled, season ticket holders will be forced to await an official policy from the league designed to handle ticket issues, and many fantasy baseball leagues will postpone their drafts. I can tell you that my birthday gift – plane flights for the family and tickets to see the Giants play in June – has very likely gone belly up.
Does any of this truly measure up to the trials and tribulations healthcare workers are facing right now, or the pain and suffering so many of the afflicted must bear, or even the despair of those who have tragically lost loved ones due to this pandemic? Nope. Not remotely. But this column exists to satiate your love of all things baseball, and that includes each and every reason you may feel sad that you do not have baseball during these trying times.
It's okay to grieve over such a thing while simultaneously being grateful for good health and sympathizing with those less fortunate.
Would Trout have finished 2020 with an OPS over 1.000 for a fourth consecutive year? Would Lourdes Gurriel have raked for a full season? Could Verlander continue to evade Father Time? Would this be the year Yoan Moncada wins the MVP award and joins the league's elite? Would Kyle Tucker ever actually get the chance to play, or has Dusty Baker finally found the human prototype for shagging flyballs?
At least we know that if the season doesn't start until July we will finally get that full season from Carlos Correa.
Luckily, there's still a chance baseball returns to us like the caged bird sings.
From a well informed source that does business with multiple MLB execs: The 100 game season being discussed would include eliminating the All Star game in Los Angeles, but would deliver a neutral field warm-weather World Series at Dodger Stadium as compensation. (1/2)

— M@ (@MattSpiegel670) April 1, 2020
In the meantime, let's all practice responsible social distancing to flatten the curve and go full Tommy Lasorda on the 'rona together.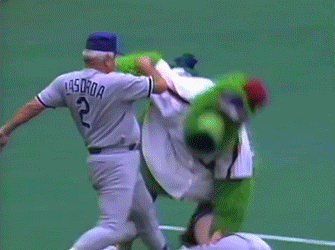 Out of the Park
A Look Beyond the Boxscores for the Best in Baseball This Week
The delayed start to the season has impacted minor leaguers more than any other players. They were already disadvantaged, and the lack of income can be crippling. Fortunately, those who have made it to The Show are also aware.
According to a report in Naver Sports, #TexasRangers OF/DH Shin Soo Choo will be donating 1K to each 190 minor league players in the org to help them get thru this difficult time. Not sure if donation is the right word, but the total giving comes out to 190k. #mlb

— Daniel Kim 대니얼 김 (@DanielKimW) April 1, 2020
A live look at Shin-Soo Choo when the Minor League season finally resumes: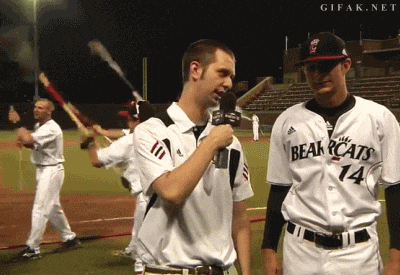 I covered the plight of minor leaguers more than a year ago, interviewing former minor leaguer Eric Sim about the harsh realities of what many misperceive to be a privileged life. Choo's efforts are both admirable and necessary. Even better, other teams have joined in the relief effort, marking a full-scale effort to provide relief and aid to some of the game's most vulnerable members.
UPDATE: The Dodgers just confirmed with me that they are also continuing to pay their minor leaguers the usual stipends and allowances they receive during spring training. https://t.co/xj7F0yTSKk

— Kyle Glaser (@KyleAGlaser) March 17, 2020
Exclusive: #SFGiants will raise pay for minor-leaguers this season, a year head of a league mandate, and pay for housing players for the first time. https://t.co/yQgVGdJ7zH

— Henry Schulman (@hankschulman) February 18, 2020
Perhaps this groundswell of support will be the start of improving the conditions and compensation for minor leaguers everywhere, especially when there are proposals being considered to sever more than 40 Major-League affiliations in the future in order to improve those working conditions.
With unemployment at its highest rate in 80 years, these young professionals, those who represent the future of the sport, shouldn't be left to twist in the wind. It's refreshing to see MLB actually extending a hand of support to its feeder clubs.
In other good news from the offseason, baseball saw its first female full-time coach hired.
SF Giants hire first woman MLB coach Alyssa Nakken – congrats #AlyssaNakken, huge news! Can't wait to meet u!! Yay! #sfgiants ⚾️⚾️👏🏾👏🏾 https://t.co/BCtk0yNdZN

— Renel Brooks-Moon (@RenelSFVoyce) January 16, 2020
I wrote about sexism in baseball for my last column in 2019, and it continues to astound that more women have not been employed in the coaching ranks of the game. Strategy, knowledge of the game, talent evaluation, leadership… these are the qualities of a good baseball coach. It's never been fully clear why a guy like Buddy Bell managed for nearly a decade at the big-league level, collecting one winning season, six last-place finishes and not a single finish above third place, but a woman had to wait until 2020 to get a full-time gig of any kind.
Yes, Bell was an All-Star Gold Glover in his playing days. However, arguably the greatest manager in MLB history, Joe McCarthy, won seven World Series titles, and he never played in the majors.
Nancy Pelosi runs the show with the House of Representatives. Angela Merkel was the Chancellor of Germany for four terms and remains a de facto leader in Europe. Mary Barra presides over GM. Marillyn Hewson runs Lockheed Martin. I'm pretty sure there's a woman who can coach the Marlins better than Don Mattingly. Just sayin'…
Backdoor Sliders
Where Baseball Got Caught Looking
You knew this was coming.
The Astros.
By now, I'm sure you've all read the scoop. I'm not going to rehash the details. I'm more interested in the blatant lies and hypocrisy, the aftermath, the potentially underreported truth, and the only response that's acceptable.
Let's start with the blatant lies and hypocrisy. To do that, we have to start at the top.
"Our opinion is that this didn't impact the game." – Jim Crane

"I didn't say it didn't impact the game." – Jim Crane 55 seconds later pic.twitter.com/MnpPeeTUPL

— CBS Sports (@CBSSports) February 13, 2020
There's really only one response to that.
Except, then he doubles down on idiocy:
Jim Crane: "I don't think I should be held accountable."

— Bill Shaikin (@BillShaikin) February 13, 2020
Get a grip, Jimbo. C'mon, man. You can't possibly be serious?
Fine, let's turn to the face of your franchise. The man who defied the odds to win an MVP award and redefined what "underdog" means.
Heres an interesting wrinkle that just got sent to me. In the top of the 9th inning Altuve is wearing an undershirt. He took it off before stepping to the plate In the bottom of the 9th. He didnt have it on all game until top 8 or 9 though. pic.twitter.com/XWEt3aTX77

— Jomboy (@Jomboy_) February 16, 2020
Sure, but I'm sure there's nothing nefarious about that at all. Jose Altuve has been an ambassador of the game, a role model for so many across the globe.
Altuve making sure he keeps that jersey on (via r/nyyankees) pic.twitter.com/OO32FVFxTi

— Kenny Ducey (@KennyDucey) January 16, 2020
All right, fine, but there must be a valid reason behind that, right?
Carlos Correa says one reason why Jose Altuve didn't want his shirt ripped off is because the Astros star had "an unfinished tattoo that looked kinda bad."

(via @Ken_Rosenthal) pic.twitter.com/e2umIGC7i7

— Sporting News (@sportingnews) February 15, 2020
It's okay, Altuve. At least Pitcher List's own Justin Paradis has your back.
It was Altuve's tattoo, two weeks ago. pic.twitter.com/IIVFFrzyl1

— Justin "Two Tickets" Paradis Designs (@FreshMeatComm) March 6, 2020
Anyhow, the sooner MLB realizes this story won't ever go away, the better. They were scheduled to hold a Field of Dreams game this summer, a constant reminder of the Black Sox scandal. Pete Rose remains a peeled scab more than 30 years later. Steroids continue to haunt every Hall of fame ballot.
Amidst all the drama, this has been MLB's response:
Manfred says he didn't strip Astros of title because "the idea of…asking for a piece of metal back seems like a futile idea." Really? The WS championship is just a piece of metal? The corporate commish still doesn't have a clue https://t.co/w1xSB5obwr

— Bill Plaschke (@BillPlaschke) February 16, 2020
As Evan explains in such great detail, the real problem was that neither side saw this coming soon enough.

So there were no specific rules or punishments in place as soon as something like this happened.

How'd that work out? https://t.co/PgraYjCpPX

— Jayson Stark (@jaysonst) February 18, 2020
Yeah, that's not good enough. What's worse is the fact that suspensions for AJ Hinch and Jeff Luhnow will still be considered served during this shortened season, which brings me to the only semi-acceptable response I've seen so far:
Gattis said he knows the 2017 #Astros were wrong, that their title is tarnished, and that an apology isn't enough for so many opponents and fans who felt dupedhttps://t.co/lZtZcvP6na

— David O'Brien (@DOBrienATL) April 2, 2020
Accountability. Responsibility. Acceptance and contrition. Yet, dig a little deeper, and even that had to come with mixed messages. The entire affair is almost enough to make you want to down a six-pack of Corona.
Corona beer stops production in Mexico because of coronavirus pandemic https://t.co/RdhaI1uRfg pic.twitter.com/Zj8l9yulT4

— ABC7 Eyewitness News (@ABC7) April 3, 2020
There are many different opinions as to how the league should handle punishments, ranging from lifetime bans to an asterisk in the record books, to the outright stripping of the Astros' title. There is a strong argument for just about every reasonable punitive measure suggested. However, I am far more interested in the aftermath of the scandal, and how the unearthing of the Astros cheating has begun to shine a light on other episodes of rule-breaking to gain an advantage.
Listen to this story, right here:
Former MLB Pitcher Jack McDowell shared his thoughts on the @MacAttackWFNZ on the Astros cheating scandal, plus has a whistle-blower story of his own involving Tony La Russa…..@Buster_ESPN@Ken_Rosenthal @JeffPassan @JonHeyman @RealMichaelKay @Joelsherman1 pic.twitter.com/IHnGzm9zBW

— WFNZ-AM/FM (@wfnz) January 17, 2020
If that doesn't make you start to question what's real and what's not anymore, I don't know what to tell you. The whole thing is beyond unsettling.
Nonetheless, perhaps the core of this aftermath might be players who may have had their careers negatively impacted by the Astros cheating. Just look at Freddie Freeman tell this heartbreaking tale.
Freddie Freeman gets emotional responding to a question about #Astros scandal. He brought up how it impacted pitchers like former teammate Kris Medlen who worked hard to get back to the majors #braves #chopfest pic.twitter.com/4UmYmAdngs

— Courtney 🇵🇷 Martinez (@sportsbycourt) January 25, 2020
Well, some of those players affected by the scandal are actually filing lawsuits for compensation. No, seriously – it's true.
Why I'm suing the Houston Astros over their cheating – The Washington Post https://t.co/ydioBbiAw0

— Mike Bolsinger (@MBolsinger) February 14, 2020
And the fact is, how can you not root for these poor guys to have their day in court? Remember, the average career lasts less than six years. If you had your dream stint potentially cut in half because the guys in the other dugout cheated to win, what would you want in return? For what's been lost can never be regained.
In all honesty, the delayed start to the season may have presented many Astros games from playing out like this:
WE'VE GOT A WILD BRAWL IN THE VENEZUELAN WINTER LEAGUE! pic.twitter.com/qoSGpqxeTP

— Baseball Quotes (@BaseballQuotes1) January 9, 2020
Most concerning might be the fact that we haven't actually seen the tip of the iceberg with this scandalous affair. So many have come out to defend the Dodgers after their loss in the World Series to the Astros. Then, Logan Morrison came out swinging.
Brewers Logan Morrison: 'So Many' MLB Teams Cheat Using Video; Names Yankees, Dodgers

"I know from first hand accounts" https://t.co/r4dQ4D4zOz

— Gabe Canales (@GabeCanales) January 17, 2020
Logan Morrison: I know for a fact the Yankees and Dodgers cheated.

Yankees and Dodgers fans: pic.twitter.com/55RUGBvSO3

— John Alexander (@JAlexanderHOU) January 14, 2020
It almost makes you wonder if there's so much more to this than we even know.
Text from an AL Central scout tonight: "If MLB really dug in on sign stealing across the league, it would one of the biggest scandals in MLB history. The public doesn't know the half of it."

👀

— Prospects 365 ⚾️ (@Prospects365) January 14, 2020
Well, then… I suppose the real question isn't how should the Astros be punished, but rather, how deep down the league-wide rabbit hole MLB wants to go with their investigation, and how far the fans are willing to go with them.
Extra Bags
What we do know is that the game of baseball itself is beauty and grace personified, so sticking with the girl power motif, this girl crushes… with style.
Girls, bruh. That swing. The bat-flip… pic.twitter.com/lAY0NXcGv2

— Rex Chapman🏇🏼 (@RexChapman) February 15, 2020
———
Very excited to be back this year! That's the ballgame for this week! Thanks for joining me, and I'll see you all next week!
Featured Image by Justin Paradis (@freshmeatcomm on Twitter)