This one hits a bit differently! Fans of our previously daily nastiest pitches articles will be familiar with the content in this new weekly article that covers all the need-to-know highlights of baseball from the past week in GIF form. From cool moments, the nastiest pitches, and the moments you'd want to forget, our GIFs of the week are sure to entertain.
Defensive Wizardry
Acuña's Laser Throw
Ronald Acuña Jr. and Atlanta started the new week off right with an early Sunday morning win over the visiting Orioles. In the 11th inning, runner Austin Hays attempted to tag up on a fly ball to the Atlanta outfielder, but Acuña ensured that the extra base wasn't taken when he unleashed this frozen rope from right field to pick up the double play. Atlanta would go on to walk it off in twelve.
Baez's Magic
It was a slow start for Javier Báez, but the veteran's bat has begun to heat up since the calendar flipped to May. He can still do it with the glove too, ranking in the 100th percentile in outs above average this year. This ball was already behind him but that didn't stop El Mago from making the diving play and firing a strike to throw out the speedy Steven Kwan.
Nastiest Pitches
Mitch Keller's Sweeper
The surprising Pirates have slowed off their torrid early pace but remain on top of the NL Central. Losers of seven in a row, Mitch Keller made sure to halt the skid as the righty tossed his first career shutout on Monday. He racked up eight strikeouts and put away Ezequiel Tovar on this ridiculous sweeper.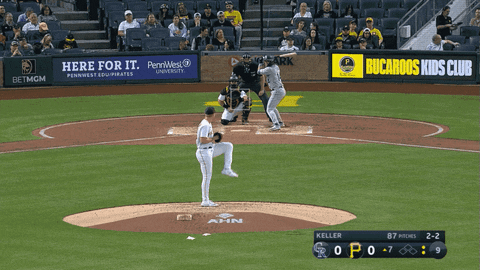 Brayan Bello's Changeup
The Red Sox sent out Brayan Bello on Wednesday in an attempt to split the short two-game series. The young right-hander did his job tossing six innings of two-run ball generating 18 whiffs along the way. One of those whiffs came from Ozzie Albies who was no match for this great changeup.
Shane Bieber's Knuckle-Curve
Shane Bieber doesn't rack up the strikeouts like he used to, but he collected the whiffs on Tuesday, tallying 19 of them to go with a 40% CSW en route to a nine K victory. Three of those came on his vintage knuckle-curve like this one to Nick Maton.
Jason Adam's Sweeper
With Pete Fairbanks out temporarily, Jason Adam looks to be the Rays' ninth-inning man. He struck out the side in his lone inning of work en route to the save. This sweeper got way inside on Cedric Mullins and absolutely tied the Oriole up.
Shane McClanahan's Four-Seam Fastball
Earlier on, on Monday, Shane McClanahan did what he does best, and dominate hitters. McClanahan struck out seven in six innings, including Adley Rutschman twice. His first came on this 99 mph four-seamer at the knees that froze the Baltimore backstop.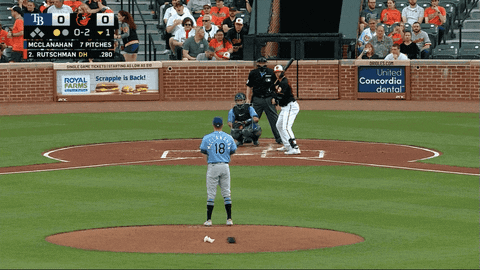 Brady Singer's Sinker
After a solid 2022, Brady Singer has not started off 2023 the way he had hoped. The former Florida Gator has struggled to strike hitters out and allowed a lot of hard contact which has contributed to several rough outings. Thursday was much better for the righty as he allowed only a single run over six innings of work. He caught Adam Haseley looking on a great front door sinker that ran back just enough to catch the inside corner.
Top Long Balls
Soler Power
By all accounts, Brandon Pfaadt has a bright career ahead of him, but unfortunately for the rookie, he was thrashed for the second straight start on Tuesday night. Doing most of the damage was Jorge Soler, who launched two home runs and drove in five. Pfaadt left this fastball middle-middle, and Soler hammered the mistake. The official tally was 468 feet, although you could add another 100 feet to that number, and it would still be believable. Not many baseballs end up where this one did.
Acuña Goes 470
Ronald Acuña Jr. must've seen Soler's homer on Tuesday evening as the Atlanta youngster one-upped him the following day. Acuña launched this Brayan Bello sinker 470 feet to deep left field as he out-measured the Marlin by two feet. Acuña's homer left the bat at 113.9 mph and everyone in the stadium knew it was gone the moment he made contact.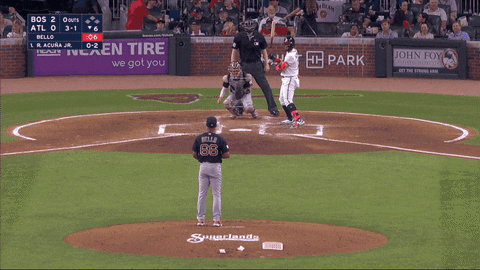 Oh, No!
Badoo's Bad Luck
This is just the ultimate oh no moment for Akil Baddoo. To add insult to injury, (literally), the ball deflected perfectly into Andrés Giménez's glove to nab Badoo in time and stick the Tiger with a caught stealing.
Bat Assist
The Mariners have struggled to score runs lately and made Logan Gilbert the tough-luck loser on Monday despite the righty taking a no-hitter into the seventh. They scored five the following night and can thank Ty France's bat for one of those runs. France singled to left to score Tom Murphy easily, but the speedy Sam Haggerty appeared dead to rights at home, but the throw from left fielder Josh H. Smith hit France's bat and allowed the Mariners to score their second run. It turns out that only the first run was needed as George Kirby and a pair of relievers combined for the shutout.
Featured Image by Kurt Wasemiller.