We're now a couple of weeks into the season and, while the vast majority of stats are still too noisy to use, we're nearing the point where things like K-rate, Stuff+, and velocity numbers are starting to be steady enough to draw some conclusions from. We've also gotten a couple examples of usage in high-leverage situations to give us a general sense of the current leverage ladder for most teams. Here, I'm using the little knowledge we have to make a few informed guesses of relievers who are generally not being considered for save chances right now, but who could see high-leverage use and save chances by the second half of this season. I'm not going to talk about Bryan Abreu, even though he's arguably more talented than any of these guys, because he's behind both Ryan Pressly and Rafael Montero, two very steady and experienced relievers. He's unlikely to be in the mix for saves regardless of his performance. I'm also not considering Liam Hendriks because, first of all, it's not extremely sneaky anymore given the positive news we've gotten recently. Beyond that, I prefer to write about what I know and I have no idea what his recovery or potential timeline could look like. Let's focus on three guys who have pitched this year and have meaningful data I can speculate on.
Hunter Harvey, WSN
The early season has not been kind to Kyle Finnegan and we already saw him passed over in favor of Carl Edwards Jr. for one save. The team context is poor, but the ninth inning is currently wide open and I think Hunter Harvey is the guy to take it over long-term. Health has been a major factor for Harvey and is the main reason he was cast out of Baltimore despite the team's once rosy vision of his future. He put it together for at least a part of a season last year with a solid four-seamer/splitter combo that PLV really likes. He put up a 2.92 ERA and 28% K-rate in 39.1 IPs in ways that seemed largely sustainable. This year, he's throwing the splitter a bit more and, so far, pounding the zone with it.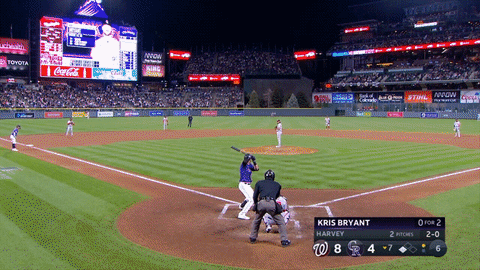 His splitter historically isn't the major whiff pitch that other, more devastating splitters are, but his inability to put it in the zone in the past (29% zone rate in 2022) allowed hitters to key in on his fastball. He has a 65% zone rate on the 20 splitters he's thrown so far this year, which will obviously come down, but it's enough to make me think that he might have made a tangible improvement here. Anything to get hitters off his 98 mph fastball is going to make the four-seamer play up. Early signs point to better command on his fastball than he's ever had, too. His zone rate on his fastball is 62.7% on his 55 four-seamers this year compared to 53.8% last year. This has translated to an improvement in PLV as well. Stuff+ also really likes Harvey's fastball so far this year. It grades his fastball as the best in the Nationals bullpen by a considerable margin. However, the ancillary save and the eighth inning so far has gone to the second-best graded fastball in Washington's pen: Carl Edwards Jr. So why not him?
When I'm speculating on future ninth inning roles, there are a few stats and metrics that I generally chase. When it comes to saves, I generally chase stuff, velocity, and strikeouts. They all generally go together, but I find that these are very much correlated with who eventually finds their way to the ninth inning. PLV rates both Edwards' and Harvey's primary fastball around the same, but Harvey's splitter is rated considerably better than Edwards' secondary pitch, his changeup. Stuff+ agrees assigning Harvey a 111 Stuff+ so far this year, the best among all Nats relievers, compared to Edwards' 90. Stikeout rates from this year are still a little noisy to use, but Edwards only struck out 22% of batters faced compared to Harvey's 28%. Harvey seems to have Edwards beat on stuff, velocity, and strikeouts and seems to have improved his command this year. I'd put my chips in the Harvey corner to eventually take over the ninth.
Jimmy Herget, LAA
Jimmy Herget was a late addition to this article after Andrew Chafin seemingly rose to the closer spot in Arizona. I think Chafin is the guy to own going forward in the D'Backs pen and he has a chance to stick there. His handedness splits are not very extreme for a lefty as his slider works well against both lefties and righties. On top of that, the slider is a true wipeout pitch as it posted a 31% swinging strike rate last year. Naturally, he's throwing it more this year and it's working well for a reliever that was already quite good in 2021 and 2022.
That brings me to the Angels who were the next unsettled bullpen that I thought someone could seize control of since I don't really believe in Carlos Estévez and I don't think Ben Joyce's command is quite there yet to be the closer. I might be singing a different tune at the end of the year regarding Joyce, but right now, no. Jimmy Herget is the guy that I'd be taking a shot on stashing because he, like Chafin, is taking his best pitch and simply throwing it more this year. His curveball was given a 151 grade by Stuff+ last year and generated a 19.3% swinging strike rate. To give you some perspective on how crazy that Stuff+ number is, Ryan Helsley's fastball had a 150 Stuff+ last year. It was graded out as one of the best pitches in the league and the results, while not as dominant as the metric might lead you to believe, show that Herget's curve is a plus pitch. We should be pretty intrigued he's responded by increasing his usage of it from 27% last year to 41% so far this year at the expense of his sinker more which was his worst pitch with a 3.2% swinging strike rate and 52 Stuff+ last year. PLV unfortunately isn't quite as big a fan of his curveball/slider combo, but it at least grades them both out at about average. I think that, while Herget's sinker leaves a lot to be desired, his curveball/slider combination has enough there for him to build on his excellent 2022 campaign.
So, why not Estévez? First of all, the walk concerns from Spring Training have carried forward into the regular season. He had a 27% walk rate on 37 batters faced in Spring Training and now has a 16% walk rate in 24 batters faced so far this season. Walk rate does take a while to stabilize, so this could still just be noise as he works his way into the season, but he's not the type of guy who has the stuff to work through a downturn in control, so it's extra concerning. Speaking of stuff, Stuff+ likes Estévez OK with a 104 grade last year, but Herget had a 106 and that's before he replaced many of his worst graded pitches with his best. In very small sample sizes in 2023, Herget's Stuff+ is 137 while Estévez's is 100. PLV isn't super excited about either of these guys, but does have a slight preference for Herget and his more breaking ball-heavy approach, so I think the stuff will win out in the long term.
Adbert Alzolay, CHC
I've written about the FrankenAce strategy in the past which is targeting middle relievers and setup guys with excellent ratios and strikeouts and combining them instead of using your SP7 in a tough matchup. In situations where I take that strategy this year, Adbert Alzolay will be one of the key guys I'm targeting. He has an outside shot at saves in the long term, but probably the lowest of the three profiled here. All the same, I still think he has value in certain team constructions where you get good volume from your SP2-5 and don't always feel comfortable starting your SP6 and 7.
Alzolay is yet another failed starter turned reliever who now has dominant stuff for one to two innings when it was middling for five. First off, his velocity has seen the type of increase we'd expect with a move to the bullpen. His four-seamer and sinker are up around 1.5 mph from 2021, but his pitches are moving as much or more as when they were slower. An extra tick and a half on the gun plus an extra inch of movement are enough to make results really pop. He had a short stint as a reliever in 2022 facing just 51 batters, but he struck out nineteen of them and walked two and advanced metrics were unanimous in their assessment of him as a dominant reliever for that stretch. This year, he's struck out nine of 27 batters faced, but still hasn't walked one which means he's only walked two out of 78 batters faced in relief over the past two years (2.6%). His stuff has improved, but it might be his command that makes him a dominant reliever.
Another thing that could help turn Alzolay into a dominant reliever is the depth of his arsenal. Stuff+ gave three of his pitches 100+ grades last year and PLV is absolutely in love with his performance so far this year. Of the four pitches he throws at least 15% of the time, his slider's 5.77 PLV is the lowest and that translates to a PLA of 1.11. That is apparently his worst pitch. His cutter, which graded out as his worst pitch last year, is now generating a 6.19 PLV and swinging strikes like this one to Christian Yelich.
Michael Fulmer is a solid reliever, but he's not tangibly different from the reliever we've seen the past couple years. We can expect him to be a solid option in the mid-to-low 3s ERA and low 20% K-rate, but that's not the type of stuff that demands to keep the ninth inning. I don't have any reason to expect an implosion that would leave the bullpen wide open for Alzolay to take, so that's why I say it seems to me like a bit of a longshot for him to get saves, but the results on his last 20 innings of relief indicate a potentially elite middle inning guy who will help you a lot in ratios with potentially the occasional vultured win.
Bonus Names
Here are a few extra names that I don't have enough thoughts to write on, but could still fit the bill here.
Aroldis Chapman – Scott Barlow is very likely to either be traded or lose his job this year and Chapman, at least in the early going, looks like his old self. The main competitor going into the year was Dylan Coleman, who has completely imploded, and I wonder if we'll learn that he was pitching through an injury. Command for Chapman has been something that can come and go very quickly leading to extreme fluctuations in performance, but this could work.
Jeremiah Estrada– He has excellent stuff, but has the same difficult path to saves as Alzolay. I'm not sure if this is the year for him and I don't have enough data on him to be completely sold on him being so good as to break through all these veterans in his way.
Mason Miller – This A's prospect has absolutely electric stuff (sits 100 mph and struck out eight of thirteen batters faced in his first AA start this year). If the A's move him to the pen, he has a fast track to the bigs and a wide-open ninth inning to play with.