With 120 teams and 5,000+ players spread through four levels (not to mention the Dominican Summer League and the Rookie Complex leagues in Arizona and Florida), identifying the next prospect breakout can be difficult. If you wait until end-of-season wrap-ups, a prospect may get too much coverage and no longer be available. You can scout stat lines all year, but that can be tedious, and it's difficult to keep an eye on every tweet and post. We may have renamed this column but fear not intrepid dynasty league manager, this is still THE place to find your prospect diamonds in the rough.
For those unfamiliar, this is a weekly column where I'll select four prospects (typically 2 hitters and 2 pitchers) who performed outstandingly in the prior week. Not only will you get a name, but also we'll dive into what powered their results and where their future value stands. "But," you may think to yourself, "what makes this column so different than any of the countless other blurbs, rundowns, and general prospect lists that are published?" Glad you asked!
First and foremost, this column is dedicated to the deep dynasty manager. If you're in an 18-team league, or rostering 30+ minor leaguers, then this is your spot.
Secondly, and I don't want to honk my horn (toot toot) but in year 1, we had a pretty solid track record of recognizing some names that have risen in value entering this season including: Kyle Manzardo, Yainer Diaz, Evan Carter, Justin Dirden, and Will Benson.
With that said, let's get to this week's prospects…
This Week's Player to Watch: SS Ronny Mauricio, NYM, AAA
Stats: (13 games) 19-50, 6 HR, 5 doubles, 14 RBI, 13 runs, 2 SBs
We always knew power would be part of Mauricio's game but the question was always how much contact could he maintain to get to it. In his last three full seasons (2019 Rookie level, 2021 High A, 2022 High A/AA combined) he had less than 25 walks and 100+ Ks in each (well, 99 in 2019 but you get the point). So it's incredibly refreshing to see in 62 PAs that Mauricio has a manageable K rate of 21% (still would love to see that walk rate get closer to 8 or 9% but beggars can't be choosers) while still delivering robustly in the extra base hit department. We're hearing reports that his recognition of spin has improved vastly and that has to be a huge part of his career-high 80% contact rate.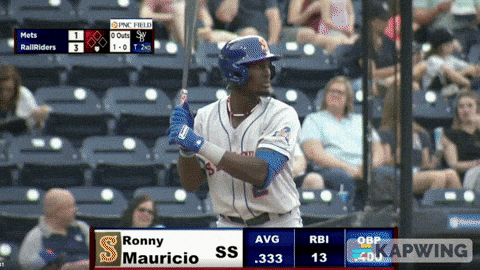 Here we see the switch-hitting Mauricio from the right side, able to adjust to a decent change that's fading down and away, getting the barrel to it but not trying to do much. Sheer bat speed and strength result in this pitch being an extra-base hit.
Next, we get Mauricio flipped to his power side, and he again displays pure strength to take a fastball up and away out to LF for a HR.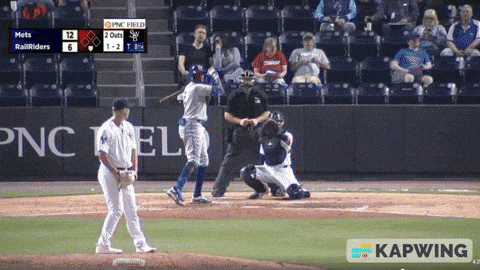 Honorable Mention: OF Heston Kjerstad, BAL, AA
Stats: (8 games) 10-32, 5 HR, 7 RBI, 10 runs, 2 SBs
I will wholly admit that I was wrong. In 2021, I thought for sure the Orioles had blown their #2 overall pick on Kjerstad. This was the draft class that had Max Meyer, Austin Martin, and even Nick Gonzales. Going so underslot at such a high position seemed like folly to me. Well, reader, that's why I'm sitting on my couch writing this article and not sitting in an office in The Warehouse on Eutaw St. 
Coming into the 2020 draft, Kjerstad was considering one of the best power bats so it's not like he was a scrub but no one foresaw him being taken that highly and his subsequent health issues (myocarditis diagnosis, torn hamstring) made it seem like an unfruitful gamble. But Kjerstad has stuck it out, coming back healthy to torch the Arizona Fall League and carrying that into the Double-A season.
At this point, it's unlikely that Kjerstad is available in any dynasty league of depth but if you're looking for a back-end top 100 prospect to target, he's a good choice but you'll need to move fast before the price is astronomically high to pay.
This Week's Pitcher to Watch: SP Andrew Abbott, CIN, AAA
Stats: (2 starts) 10.2 IP, 0 ER, 2 hits, 1 BB, 25 Ks
Andrew Abbott's 2023 start has been unbelievable, with double-digit strikeouts and hardly any contact allowed over 2 starts. Abbott converted from reliever to starter in his senior year at Virginia and since being drafted, he has moved quickly through the first couple of levels. Last season, he struggled with command at AA, it may not be a coincidence that it was his first season over 100 IP as a pro.
What I love about this set of strikeouts from Abbott's 14K masterpiece, is that it shows his ability and willingness to locate his fastball up in zone against lefties and righties alike. Elevating the fastball well on both sides of the plate means Abbott has more room to play with getting hitters to chase (In 35 batters faced, Abbott has a 25% SwStr rate). When a hitter knows he has to cover every section of the plate, it makes at-bats that much more difficult because the hitter has to think more and react less. I doubt Abbott maintains this type of pace but it's a great opening statement from someone who's had shaky command in the past.
Honorable Mention: SP Trace Bright, BAL, High A
Stats: (2 starts) 8 IP, 1 ER, 5 hits, 2 BB, 18 Ks
The Orioles obviously have a gang of hitting talent throughout their farm but an increasing concern (especially with how limited they've looked at the MLB level) is building similar depth on the mound. After Rodriguez and Hall, Baltimore doesn't really have any arms that you can easily point to as an impact arm. Bright is hoping to help change that narrative.
Armed with a fastball that's been increasing steadily in velocity since high school (Baseball America has him topping out at 96-97), a slider, curve, and change-up. Two main areas to watch: HRs allowed and overall contact. In each of his first two seasons at Auburn, Bright averaged at least 1 HR per 9 but did bring it down to .9 HR/9 in his draft year. Contact-wise, his H/9 hovered around 9, helping to explain his high WHIP and ERA numbers. Bright's pro career has been limited to 17.2 IP so far, here's hoping that he can get deep into games at Aberdeen this season to build up his starter totals.