This one hits a bit differently! Fans of our previous daily nastiest pitches articles will be familiar with the content in this new weekly article that covers all the need-to-know highlights of baseball from the past week in GIF form. From cool moments, nastiest pitches, and the moments you'd want to forget, our GIFs of the week are sure to entertain.
Quote of the Week
Dusty Baker on Shohei Ohtani – "He could probably outrun a bear"
Cool Moments
Liam Hendriks Rules All
Just five months removed from stage four cancer treatment, Aussie legend Liam Hendriks took the mound for the White Sox in what was an emotional and landmark moment for baseball fans everywhere. Welcome back Liam, we are all so thrilled.
Miggy Can Run
The man just keeps giving! Miguel Cabrera continues to defy the odds and make a laughing stock of the critics by doing what he does best, love playing baseball. The big Tigers legend reached deep to turn third and make it safely to home plate. A big effort from the future Hall of Fame slugger. We love you Miggy!
Who Let The Dogs Out?
Miggy wasn't the only attraction at Comerica Park this week as the dog show came to town and paid top dollar for great seats at the game. The Tigers' marketing team pulling out all the stops for great content this week.
Nastiest Pitches
Ben Joyce's Sinker
Wow, what an MLB debut from young Angels reliever Ben Joyce, who not only came out firing with a 102 mph sinker that nicked the corner of the strike zone for his first pitch but also used the same pitch to get his first career K in Gavin Sheets. Well played rookie, well played indeed.
Jhoan Duran's Four-Seam Fastball
This is just unfair – Twins closer Jhoan Duran hitting 105 mph on the radar gun on back-to-back pitches against a beleaguered Myles Straw as he records another impressive save with some nasty heat. Duran could be the most exciting pitcher to watch in the ninth inning right now.
Edward Cabrera's Changeup
When he's good, he's certainly impressive. Marlins starter Edward Cabrera has had his fair share of command issues, however, this outing against the A's was the best of his career so far. Cabrera recorded 10 strikeouts in six innings and his changeup was absolutely unhittable. Here he is embarrassing Jonah Bride.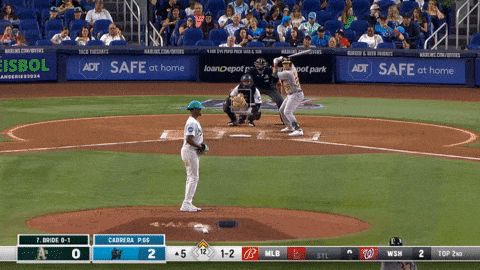 Whoopsy!
Pitch Trail Fail
Logan Allen pitched a beauty this week and got a little too excited in the bottom of the fifth inning against the Orioles. The umpire had called time but Allen was already locked in before sending the pitch waaaaay too high of the zone. Wait for the pitch trail, it's a thing of beauty.
Adapted by Kurt Wasemiller (@KUWasemiller on Twitter / @kurt_player02 on Instagram)