This one hits a bit differently! Fans of our previously daily nastiest pitches articles will be familiar with the content in this new weekly article that covers all the need-to-know highlights of baseball from the past week in GIF form. From cool moments, the nastiest pitches, and the moments you'd want to forget, our GIFs of the week are sure to entertain.
Defensive Wizardry
Luis Robert Jr.'s Robbery
A couple of weeks ago Kevin Kiermaier made a fantastic leaping grab in Toronto to bring back a home run. On Monday, Luis Robert Jr. performed a similar feat in the same park when the White Sox visited the Jays. Matt Chapman put a charge into this one, but Robert timed his jump perfectly to bring back the potential home run.
Taylor Ward Steals a Grand Slam
Monday's high-scoring affair out West went late into the night but would have ended an inning sooner if not for Taylor Ward's grand slam robbery. Ward made this catch despite an Angels' fan doing their best to prevent it.
Nastiest Pitches
Spencer Strider's Slider
Spencer Strider was nearly perfect on Monday allowing only two hits in his eight innings and striking out thirteen. He also generated an impressive 31 whiffs on 65 swings. He started off his outing with a strikeout of Jazz Chisholm Jr. on a nasty slider and never looked back.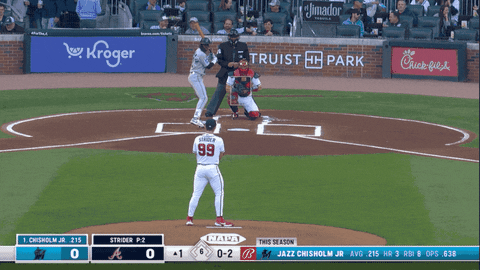 José Berríos' Slurve
José Berríos has not had a good start to the year but put up his best start of the season Tuesday against the White Sox. He struck out nine, on four different pitches, over seven shutout innings and picked up his second win of the year. He's been up and down over the last few seasons, but that curveball is so pretty when it's working.
Kodai Senga's Ghost-Fork
Kodai Senga can have trouble finding the zone at times, with 18 walks in 26 innings, but with the help of his ghost-fork, he can rack up the strikeouts as well with 32 on the year. He put away Jeimer Candelario on a nasty one in the second inning.
MacKenzie Gore's Curveball
Opposing Senga on Wednesday was MacKenzie Gore. Not to be outdone, Gore tallied ten Ks and showed off a beautiful breaker here to put away Mark Canha.
Tanner Bibee's Slider
Tanner Bibee made his debut on Wednesday, and, at least in his first start, the rookie was as advertised. He punched out eight over five and two-thirds and put away Brian Serven on a great breaking ball in the third.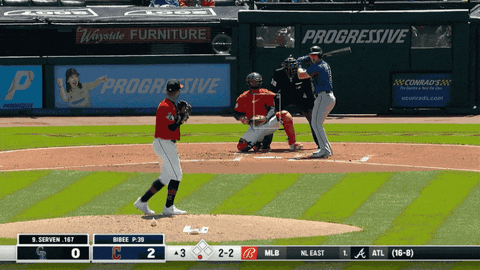 Zac Gallen's Knuckle-Curve
In a week full of dominant pitching performances, Zac Gallen made sure that his name was added to the list. He struck out 12 in just six and a third. Wednesday marked Gallen's fourth straight start without allowing an earned run and has struck out at least eleven in three of those four.
Top Long Balls
Sabol Walks It Off
The Giants were down to their last strike on Tuesday night against one of the most dominant closers in the league, but Blake Sabol sent a 1-2 slider deep to center to walk off the Cardinals and secure a game-two victory. The struggling Giants would go on to take three of four in the series against the equally beleaguered St. Louis Cardinals.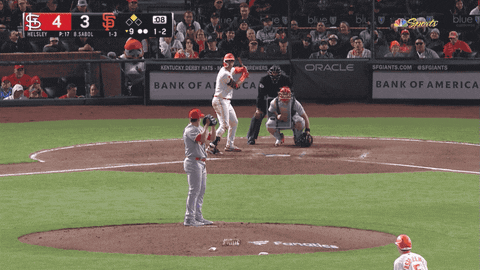 Drury's Hot Week
Brandon Drury entered the series against the A's on Monday with one home run. After Thursday's finale that tally stood at five. In the four-game series, Drury knocked out four home runs, drove in twelve, scored seven times, and recorded multiple hits in each game. He hit his final home run during Thursday's matinee and nearly took out the SUV in centerfield. He'll surely be looking forward to matching up with the division rival A's again soon.
Oh, No!
Fiery Sale
Chris Sale had a less-than-stellar outing in Baltimore on Monday and the veteran left-hander was clearly displeased with his performance. As someone who has suffered a litany of weird injuries in recent years, including a broken wrist from a bicycle accident, he should probably avoid punching things. At least he used his non-pitching hand.
Tip Drill
This fan thought that they'd caught a Paul Goldschmidt home run, only to make an (unnecessary?) jump and tip the ball up to the fan behind them who made an easy catch.
Featured Image by Kurt Wasemiller.