This one hits a bit differently! Fans of our previously daily nastiest pitches articles will be familiar with the content in this new weekly article that covers all the need-to-know highlights of baseball from the past week in GIF form. From cool moments, the nastiest pitches, and the moments you'd want to forget, our GIFs of the week are sure to entertain.
Defensive Wizardry
Chas McCormick Lays Out
The reigning world champion Astros have not carried over last October's momentum into the early going of the 2023 season. Wednesday's victory over the Pirates marked the first series win for Houston and they'll look to keep the wins coming over the weekend against the in-state and AL West division rival Rangers. They should have no trouble if Chas McCormick keeps making plays like this!
Kevin Kiermaier Brings One Back
Long known as a defensive wizard, Kevin Kiermaier, produced an early nominee for the catch of the year on Tuesday. Kerry Carpenter hit this ball a long way but needed a few more feet to get it out of Kiermaier's range. Teammate Bo Bichette couldn't believe his eyes when he realized Kiermaier came down with the ball.
Nastiest Pitches
Adam Ottavino's Sinker
With Edwin Diaz on the shelf, the Mets continue to look for their consistent ninth-inning option. Adam Ottavino looked solid during his audition on Monday as he shut the door on the strong Padres' offense and got Ha-Seong Kim looking on a wicked backdoor sinker.
Kevin Gausman's Splitter
Kevin Gausman was fantastic on Wednesday picking up eleven strikeouts over his eight innings of work. As always, the splitter was his go-to pitch with ten of the eleven punchouts coming on the split. Javier Báez couldn't hold up on this splitter that disappeared below the zone.
Shane McClanahan's Changeup
Shane McClanahan led the Rays to an 11-0 start on Tuesday as he dismantled the Red Sox for nine Ks over five innings. His changeup dominated the night, recording six strikeouts and carrying an impressive 52% CSW. Poor Rob Refsnyder was caught flailing at this changeup that continued to run away from the zone.
Aaron Nola's Knuckle-Curve
Aaron Nola's 2023 has not started the way he had probably hoped, as the Phillies' ace has had an ERA north of seven and has yet to record a win. He took the loss on Tuesday, but still managed six strikeouts, and led off the game with a punchout of Jazz Chisholm Jr. on a great breaking ball.
Kevin Kelly's Sweeper
The Rays brought their record to a perfect 13-0 on Thursday, despite losing starter Jeffrey Springs to an ulnar nerve injury. Kevin Kelly tossed two and two-thirds in relief and showed off this incredible backdoor-breaking ball to get Reese McGuire looking.
Top Long Balls
Bae's Walk Off
The young Pirates lineup took a big hit this week when it was announced that the always-exciting Oneil Cruz was headed to the IL with a fractured ankle. While Pittsburgh is not expected to contend this year, a number of their prospects are seeing time in the big leagues to give Pirates fans a look into the future. The Steel City had reason to celebrate Tuesday night as rookie Ji Hwan Bae hammered a three-run home run to walk off the Astros and had a fantastic bat flip fit for the moment.
Kelenic's Comeback
It's always fun to see a top prospect get the call to the big leagues and immediately set the league on fire. We saw that last year with players like Julio Rodríguez, Adley Rutschman, and Spencer Strider, as well as in years past, like in 2018 when Ronald Acuña Jr. and Juan Soto battled it out for the NL Rookie of the Year. However, for every prospect to see immediate success, plenty more struggle to make the transition.
Early in his career Jarred Kelenic fit that bill. While the lefty has continually dominated the minors, he has struggled to find his footing in The Show. After a strong Spring, Kelenic has looked better in the early going of the 2023 campaign, albeit, with a (very) small sample size. On Monday, Kelenic crushed a game-tying home run in the top of the ninth at Wrigley. The Mariners would go on to lose the game in extras, but they can hope that the blast boosted the young lefty's confidence.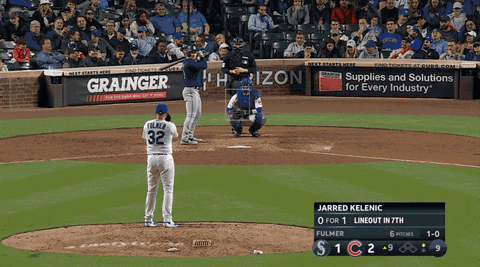 Oh, No!
Tangled Sheets
Gavin Sheets had an afternoon to forget during Chicago's 3-1 loss on Wednesday. The young outfielder not only had an 0/4 day at the plate but took a tumble in the outfield that allowed a Ryan Jeffers fly ball to turn into a triple. Poor Sheets found himself turned around and tripped over his own feet while trying to adjust.
So Long, Glove!
Giants reliever Taylor Rogers seemed unhappy with himself after his relief appearance vs the Dodgers on Wednesday evening. Rogers walked four straight hitters and was pulled without recording an out. All four runners would come around to score and Rogers was saddled with the loss. Clearly, he thought it may have been the glove's fault.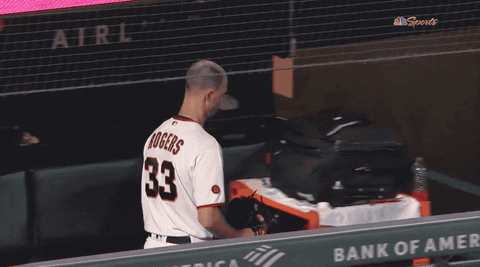 Featured Image by Kurt Wasemiller.