This one hits a bit differently! Fans of our previously daily nastiest pitches articles will be familiar with the content in this new weekly article that covers all the need-to-know highlights of baseball from the past week in GIF form. From cool moments, the nastiest pitches, and the moments you'd want to forget, our GIFs of the week are sure to entertain.
Defensive Wizardry
Matt Chapman's Diving Stop
The surging Orioles may have got the better of the Jays on Tuesday in a big 13-3 victory, but Matt Chapman made the play of the day. Anthony Santander hit a sharp ground ball down the line, but Chapman was able to make the diving stop in foul territory and fire a strike to record the out.
Royals' Young Duo
Brady Singer tossed eight shutout innings on Thursday in a win over the free-falling Mets. His outing was bolstered by a fantastic double play turned by the Royals' exciting middle infield tandem of Bobby Witt Jr. and Michael Massey. Thursday's win concluded their sweep of the Mets and brought their overall win streak to six games.
Nastiest Pitches
Jhoan Duran's Splitter
A pitch moving 101 MPH should not be able to move like that. Jhoan Duran welcomes rookie Jordan Walker to the big leagues with a triple-digit splitter.
Framber Valdez's Curveball
Framber Valdez deserved a spot in Nastiest Pitches after his no-hitter on Tuesday night. He amassed seven strikeouts in the performance and this eighth-inning curve to Oscar Gonzalez may have been one of his best.
Charlie Morton's Curveball
In 2023, at 39 years old, age continues to try and catch up with Charlie Morton, but the veteran is doing his best to hold it off for another year. Despite sporting his lowest K% in eight years, Morton tallied eight strikeouts on Monday night and tangled up Mickey Moniak on a vintage curveball.
Sonny Gray's Sweeper
Sonny Gray and the Twins are holding onto the AL Central by a slim margin despite just barely being over .500. This week they traveled to St. Louis to take on the last-place Cardinals, one of the deadline's biggest sellers. Gray had no problem dispatching the weakened lineup tossing seven innings of two-run ball and picking up eight strikeouts. He got Lars Nootbaar swinging in the first on a nasty back-foot slider.
Corbin Burnes' Changeup
Corbin Burnes wasn't at his best on Monday but still put up a solid line of six innings while allowing only two runs. He struck out five and got Corey Dickerson to chase a changeup that ran out of the zone.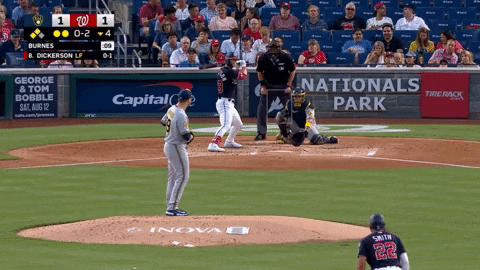 Top Long Balls
JD Walks it Off
The Red Sox did well to battle back on Saturday, scoring a pair in the ninth to tie the game up after eight innings of offensive futility. The Giants had other plans, however, as J.D. Davis took Kenley Jansen's first pitch deep off the foul pole to walk it off.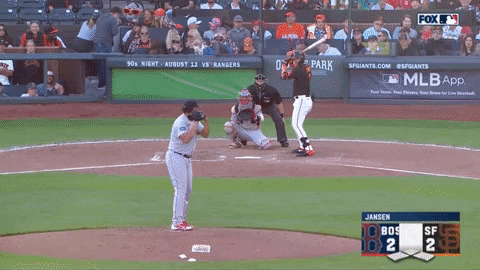 Olson Hits Another
Matt Olson started off the week with four home runs in four games to extend his NL home run lead. On Sunday, Olson hit his second of the day in the bottom of the eighth to put Atlanta ahead and finish off their sweep of the Brewers. Middle-middle may not be the best location against one of the top power hitters in the league.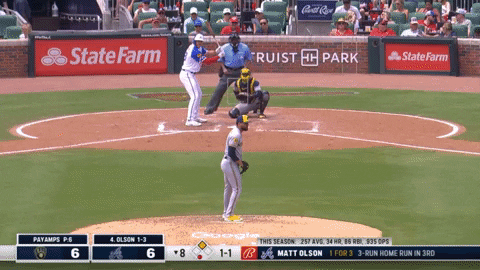 Oh, No!
The Return of Angel Hernandez
Back like he never left. And yes, the call was overturned.
Mariners Throw it Around
Boston continued their West Coast visit to start the week as they traveled north to Seattle as two Wild Card hopefuls jockeyed for position. The series couldn't have started worse for the Mariners as they allowed a leadoff walk to Jarren Duran who then stole second and proceeded to score as the Mariners made two separate throwing errors on the play. Seattle would go on to win the game, and the series, and keep their playoff hopes alive.