Mondays are the worst. They are absolute garbage days. If you were to rank the days of the week, Monday would be 8th. You are as far away from the weekend as possible, you have to get out of bed and go to work, and you have to deal with people who have no problems with Mondays at all.
But this was also the first Monday with baseball that counts in months and baseball makes everything better, even Mondays. So even though the first game of the day was delayed due to weather, no way we're going to let that rain on our parade, especially when two of the greatest moments of the day came from that very game between the Detroit Tigers and Minnesota Twins.
Nelson Cruz is Part Robot
While this is total supposition on my part, Nelson Cruz must be, at least in part, some sort of artificial life form. On July 1, he will turn 41 years old and today hit two bombs with exit velocities of  114.6 and 116.6 mph, the first of which was a grand slam (that came after arguing he'd already hit a grand slam):
Nelson Cruz futilely arguing that he'd actually hit a grand slam on a just-missed foul ball, and then ACTUALLY hitting a grand slam at 114.6 MPH on the next pitch, is just an 80 sequence.

— Mike Petriello (@mike_petriello) April 5, 2021
Here's that "80 sequence" from ESPN on Twitter:
Good baseball karma? 😳

Nelson Cruz thought he hit a grand slam that was ruled a foul. The next pitch, he actually did hit a grand slam.

📺: ESPN pic.twitter.com/tcMUYWL6gH

— ESPN (@espn) April 5, 2021
Then, not to be outdone by himself in some sort of Cruz-ception, he blasted another later in the game.
ANOTHER four-bagger for Cruz 😤@MLB | #MNTwins pic.twitter.com/ON3WIapluQ

— FanSided (@FanSided) April 5, 2021
But the real story here, the lede that I have so cleverly buried, reveals itself when you look closely at the catcher, Wilson Ramos: he's got his hand out for a new baseball from the ump before Cruz even finished his swing. That's what you call a no-doubter.
Gregory Soto As Ricky Vaughn
Y'all know the story: A silly bunch of misfits come together to play scrappy ball in an attempt to win games despite the evil owner wanting them to fail. No, not Ted Lasso! Well, yeah, that's also the plot of Ted Lasso, but I'm talking about Major League. The Charlie Sheen character who got out of prison to throw the ball really hard but has control problems and is somehow less of a caricature of people than real-life Charlie Sheen? That was Ricky Vaughn:
And in the same game that saw Nelson Cruz bang two homers with a combined exit velocity of 231.2 mph (30% the speed of sound at 59° F), Gregory Soto entered the game and promptly did this:
Gregory Soto, Elevated 98mph Fastball.

Very elevated. pic.twitter.com/JYYeAFtup9

— Rob Friedman (@PitchingNinja) April 5, 2021
As the Pitching Ninja himself pointed out here, and you can see in the picture (note the dark mode you light mode heathens), the radar gun and corresponding graphic win the day. Get that person a raise!
And just in case you thought this game had nothing left to give, our own Alex Fast provided this glorious image that has nothing to do with Nelson Cruz and his big beefy arms or Gregory Soto and his attempt to do serious damage to the plexiglass behind home plate but deserves recognition all the same:
Accidental Renaissance? pic.twitter.com/mOkyHYBvXj

— Alex Fast (@AlexFast8) April 5, 2021
Nick Castellanos Gives Zero Hecks
In case you missed it, Nick Castellanos was suspended by Major League Baseball for two games because he super-flexed over the pitcher who hit him with a pitch, scoring on a wild pitch thrown by the same guy. Benches cleared, no punches were thrown, Yadier Molina got in a good neck grab… yada yada yada. Nick appealed and was able to be in the starting lineup tonight against the Pirates and clearly learned his lesson about showboating:
SWAGGY CASTELLANOS pic.twitter.com/wMMYKSUzYD

— And This Blog Belongs To The Reds (@ATBBTTR) April 6, 2021
Here's a stinkin' sweet version of this from the Cincinnati Reds themselves:
brb gonna go watch this a couple thousand times pic.twitter.com/90cDiyAgvo

— Cincinnati Reds (@Reds) April 6, 2021
Please don't misunderstand, the way that discipline was doled out against him was a bagful of nuts. This bat flip/strut combo is epic. I just wonder who on the Pirates is going to drill him tomorrow for being… [checks notes]… excited about doing something well at the highest possible level.
 Uplifting Moments of Friendship and Happiness
There's no secret about the connection between Bo Bichette and Vladimir Guerrero, Jr. Both are phenoms. Both had famous dads who were really good at baseball. They get along well. They are friends. But, in the immortal words of Star Trek the Next Generation's LeVar Burton, "…you don't have to take my word for it."
🎶 Let me tell you 'bout my BEST friend 🤗 pic.twitter.com/40IAf6aU6B

— Toronto Blue Jays (@BlueJays) April 5, 2021
This is wholesome content and I will not have you ruin it with your tepid, luke-warm takes. One wonders what they were talking about. I like to think Bo was telling Vlad he really needed to improve that ground ball rate.
This next one is just pure. It's the kind of thing we all need in this crazy world right now: unfiltered happiness. Frankie Montas, coming off the mound after a strikeout, heads toward the dugout looking all business as usual. But wait for it. When you see it, you know it. That smile.
Come for the strikeout, stay for the smile 😊 @FrankieMontas | #RiseAndGrind pic.twitter.com/iAVTED3LDV

— Oakland A's (@Athletics) April 6, 2021
Christian Vázquez Assaulted… by Mat
Batting practice is not usually dangerous, especially if you're the batter. The hitters don't even wear helmets for goodness sake. But this was different. In what can only be described as a perfect metaphor for Boston's dreadful start to the season, a gust of wind almost took Christian Vázquez out.
who knew batting practice could be so dangerous?

Christian Vázquez is tough, he's a baseball player. pic.twitter.com/d9EmEIk0L5

— Cut4 (@Cut4) April 6, 2021
My favorite part of this is how the teammates gather around to watch the video and then just laugh at their teammate. Hilarious.
So there you have it, the five best things from Monday. Here's a bonus, just for you: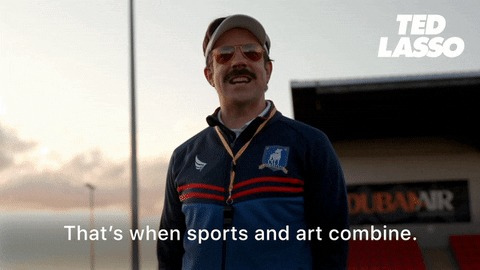 It's like Major League, but with soccer in England and bubbles in the water.
Photo by Icon Sportswire | Adapted by Justin Paradis (@JustParaDesigns of Twitter)