Tuesday was a great day of baseball. We had a couple of big-time prospects get the call, some great pitchers take the mound and a lot more dancing than usual. Let's take a look at some of the most amusing things to happen during Tuesday's slate of games.
Juan Soto Dances
Juan Soto was reinstated from the COVID-19 injured list prior to the game of Tuesday, after being out since Opening Day. He wasn't in the lineup, but that didn't mean he didn't give us something to smile at. 
By now, you're familiar with the Soto Shuffle, which Soto does in between each pitch, where he slides his spikes across the dirt and faces the pitcher. It's always entertaining, as are most of his at-bats. On Tuesday, he gave us something a little different.
Well, this is a new one. Josh Harrison homered in the second inning of the Mets and Nationals game, and you could say Juan Soto was excited. Even sitting in (on?) the dugout, Soto continues to be one of the most entertaining players in baseball.
Padres Booth Has Some Fun
More dancing! This time, courtesy of San Diego Padres announcers Don Orsillo and Mark Grant. 
"How's WFH going?"

Us: pic.twitter.com/9QNAwMay1u

— Cut4 (@Cut4) August 5, 2020
The two announcers showed off a few more moves than Soto did, filling a whole 58-second video with dancing.
"For some reason, Don and I caught a bug. The dancing bug. And I'm gassed," Mark Grant said.
After Mark Grant knocked over his microphone mid-dance, a couple of people tried to top the two. But nothing was going to stop them from, as they say, vibing.
Drone Delay…?
This could be the weirdest baseball thing to happen in 2020 already. And dare I say, it might not be topped. In the top of the fifth, with two outs, the game between the Pirates and the Twins was delayed. Not because of rain or any type of weather. It was because of a drone.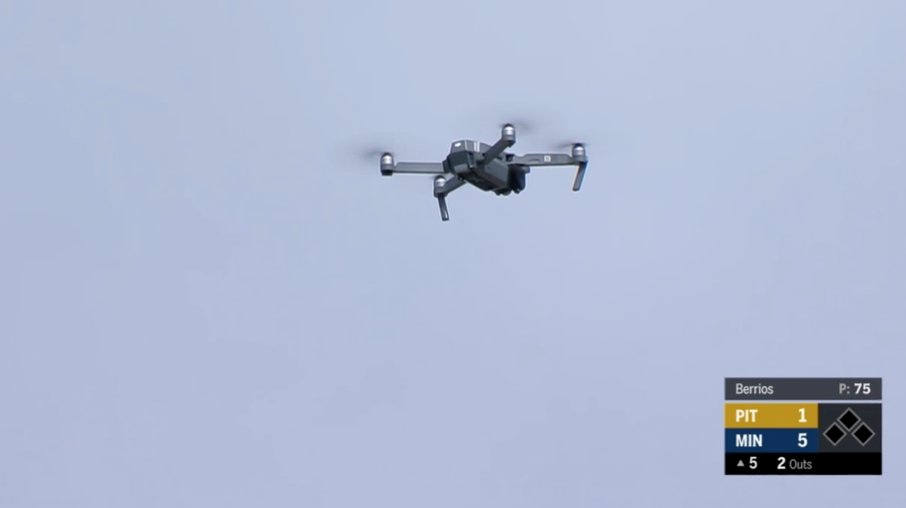 What? This is one of the weirdest reasons for a delay I've ever seen. To top it off, players in the bullpen were throwing baseballs at it!
The drone was then hovering over the field. Players in the bullpen began to try and pelt it with baseballs. They missed. The drone appears to have disappeared into the Ramp A parking lot. That guy is totally getting arrested.

— danhayesmlb (@DanHayesMLB) August 4, 2020
I could make a joke about the Astros, or Trevor Bauer and his drone, but I'll let the Pirates do the honors:
We are in a…drone delay.

We don't know. AL baseball is weird.

— Pirates (@Pirates) August 4, 2020
Double Doink
There have been plenty of occurrences when a ball hits the bat twice when a player is hitting. Or even the ball hitting the catcher or umpire's facemask. In the Marlins and Orioles game today, we had something a little different. With Chris Davis at the plate and Francisco Cerveli catching, it caught a piece of both of them. Check it out:
Double Doink. pic.twitter.com/732r2eV9Ea

— Pitcher List (@PitcherList) August 5, 2020
Ouch.
Dad Trout
Mike Trout is officially back from paternity leave after being reinstated prior to Tuesday's game. He comes back, not only as one of the best players to ever play but as the father to Beckham Aaron Trout. His first game back was against the Seattle Mariners, who he has owned throughout his career. Now that he has unlocked his fatherly superpowers, he did this in his first at-bat: 
287th career homer for Mike Trout, 1st as a dad. pic.twitter.com/msHJxqsshp

— Los Angeles Angels (@Angels) August 5, 2020
Vlad Jr. Flinches
Two of the biggest young stars in the game today, Ronald Acuña Jr. and Vladimir Guerrero Jr. faced off today. They met at second base today, and the following interaction ensued: 
Ronnie got him 😂 pic.twitter.com/96cL1BuyTR

— Cut4 (@Cut4) August 5, 2020
It's safe to say Vlad Jr. was not expecting this. Acuña Jr. is one of the most entertaining players in baseball, and he just had to mess with a fellow star when he got the chance.