Welcome back to Gnats of the Week! It's the series where I take everything that happened in Major League Baseball this week and single out the most brilliantly stupid performances to be enshrined in eternal (until next week) glory.
What is a gnat, you ask? Good question. Gnats are the little guys, the washed-up utilitymen, unheralded prospects, and unproven entities who seem to come out of nowhere to make their mark on a game. If you watch a lot of baseball (and if you're reading this, I'm willing to bet on it), then you know that this happens pretty much every day.
These players are delightful stories, unless, of course, they're playing your team. Then they're the most daggum irritating thing you've ever seen. That's what makes them gnats; a truly beautiful phenomenon.
New this week in the House that Gnats built: César's power trip, the Fratty Pirate and a couple o' wise guys with the bat.
Honorable Mentions:
* – Isan Diaz did not play
2-4, 2 HR vs. Carlos Rodon, White Sox on Monday
In his first four Major League seasons with the Phillies, César Hernández hit a total of eight home runs. He was a modern-day slap hitter, reliably hitting for average with very little power.
In 2017 that started to change, as he hit nine bombs while still producing a high batting average (.294) and OBP (.373). Perhaps inspired by these results, he got more aggressive at the plate, resulting in an interesting 2018 season where he hit 15 homers but saw his average drop over 40 points; he also had career-highs in both walks (95) and strikeouts (155, up from 116 in his last full season), with his OBP dropping to a still solid .356. In 2019, he backed it up with 14 dingers and managed to bring his average back up to .279 at the expense of another 20-point drop in OBP. During all his fluctuation, he remained a 2+ WAR player at minimum each year.
All that to say, we thought we knew more or less what to expect from Hernández — especially after a solid showing in the short season with Cleveland in 2020, where he only hit three homers but led the league in doubles (and won a gold glove). Apparently, we were wrong.
Through 54 games this year, Hernández is hitting worse (.217 BA, .245 BABIP) and getting on base less (.300 OBP) than ever before. He's also hitting bombs at a rate of 3.4%, on pace for upwards of 25 by season's end. On Monday he hit two in a row off Carlos Rodón, including a shot to left on the right-hander's first pitch of the day. Here's the second one, hit to virtually the same spot:
Cesar is 2-2 with 2 HR today.

Pretty good production out of the leadoff spot.#OurCLE pic.twitter.com/w1bhn2715J

— Cleveland Indians (@Indians) May 31, 2021
In 940 career games prior to this one, Hernández had never once hit multiple home runs in one game. Tough luck for Rodón, one of the leading Cy Young candidates in the American League. I guess that's what happens when you try to predict this guy.
Ironically enough, Hernández's next two at-bats resulted in strikeouts with runners in scoring position. The former gold-glover also made a costly throwing error in the sixth inning that allowed the Sox to retake the lead; they would go on to win 8-6. Et tu, César?
9 IP, 6 H, 2 ER, 6 K, W  vs. Yankees on Thursday
731 games.
That's the streak that was broken on Thursday when Ryan Yarbrough threw nine full innings against the Yankees, the first complete game by a Rays pitcher since 2016. For those scoring at home, that's 1,846 days since Matt Andriese shut out the A's. Yarr, that's a long time.
The fact that it came against the Yankees, who have now made three separate appearances on this list for their ineptitude against the Rays (shoutout Rich Hill and Michael Wacha), is awfully fitting. It's especially ironic that it was Yarbrough who did the deed, as he's served primarily as a reliever/opener for most of his career and his previous IP high this season was 6.0 — and even more so considering his opposition was Gerrit Cole.
Yet, here we are: 6 H, 6 K and 2 ER in nine innings for the Fratty Pirate in a 9-2 Rays win. But it gets worse when you see that he wasn't even throwing strikes.
Ryan Yarbrough, Painting. 🖌️🎨 pic.twitter.com/2HSuMJBMq8

— Rob Friedman (@PitchingNinja) June 3, 2021
Of course, if you watched the game, this probably isn't news to you. Yarbrough's quirky four-pitch delivery clearly mystified umpire Chad Whitson, as shown in these Baseball Savant graphics from the game: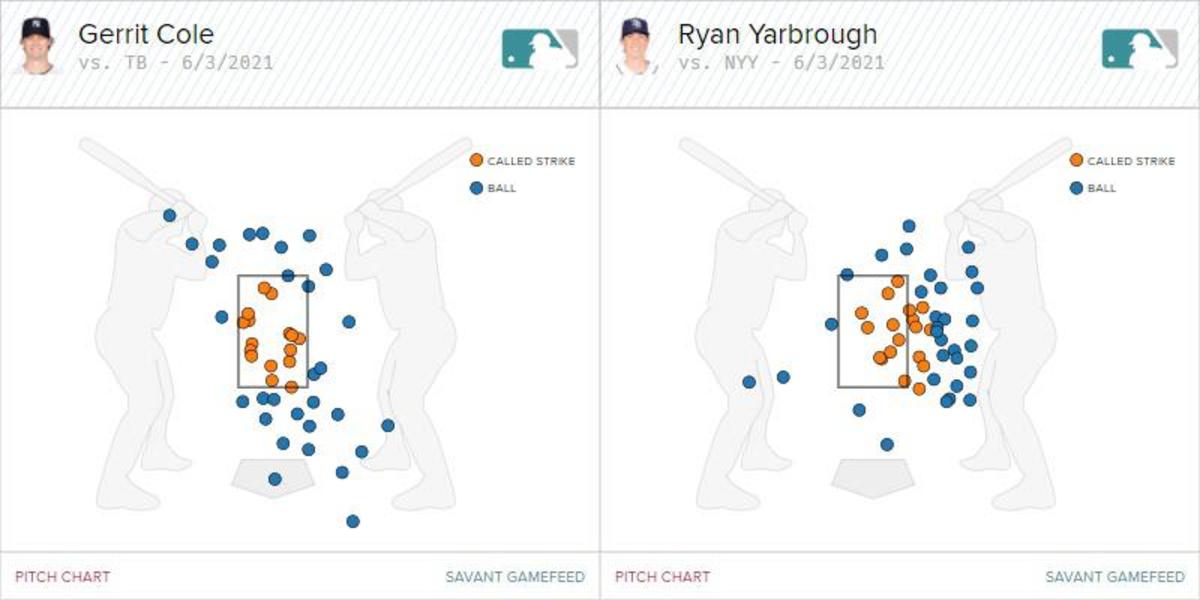 For once, I gotta admit I sympathize with Yankee fans on this one. That has to be one of the most infuriating one-sided visuals I've ever seen. Which is to say, what a downright masterful gnat performance.
7-16 (.438), 3 HR, 4 RBI, 4 R, SB, 1.533 OPS vs. Padres & Giants
If the week had ended on Tuesday, he would have had this column wrapped up all on his own. It's not every day that a 29-year-old Quadruple-A utilityman breaks out like Barry Bonds against the two best teams in the National League. But that's exactly what Patrick Wisdom did this week, and by golly, he'd do it again!
Well, I guess we'll have to see if he does or not. But with a 1.374 OPS and four homers through the first two weeks of his 2021 season, he's off to a solid start — and he's leaping to the top of the gnats leaderboard like a starving frog.
The highlight of Wisdom's hits tour came on Monday, when he went 3-4 with two homers against Chris Paddack and the league-leading Padres. Here they are in all their beauty:
.@PatrickWisdom5 goes hunting for fastballs and comes up big.#CubTogether pic.twitter.com/FUPyAvS4nO

— Chicago Cubs (@Cubs) May 31, 2021
First career two-homer game for @PatrickWisdom5!#CubTogether pic.twitter.com/brTuuZVREn

— Chicago Cubs (@Cubs) May 31, 2021
The very next day, he backed it up with a 399-foot bomb to left off Ryan Weathers, his fourth in eight games. After another hit on Wednesday, he finished the Cubbies' three-game sweep of the Padres 6-12 with four RBIs and a stolen base.
He sat out Thursday's loss to San Francisco, but came back on Friday with a double and a run scored to keep his season average over .400. That'll play. Wave if you're having fun, Patrick!
13-23 (.565), 5 HR, 7 XBH, 10 RBI, 7 R, 1.934 OPS vs. Yankees, Brewers & White Sox
Last week it was Robbie Grossman, now this? There must be something in the water in Detroit.
But in all seriousness, we're witnessing a truly ridiculous hot streak from Jonathan Schoop. On May 22, he was batting .222; since then he's hit in 10 of 12 games, including multi-hit efforts in five of the last six. Now he's batting .261, and he's lifting the Tigers to play competitive baseball almost single-handedly.
During last weekend's sweep of the Yankees, Schoop went 4-9 with three runs including a homer off Deivi Garcia. In two mid-week games against Milwaukee, he went 5-9 including a two-homer game on Tuesday. During Monday's game, he earned his gnat stripes with this at-bat vs. Corbin Burnes:
10-pitch battle between Jonathan Schoop and Corbin Burnes.

Advantage: Schoop pic.twitter.com/0DqQhnrrXi

— Detroit Tigers (@tigers) May 31, 2021
Then on Friday against the White Sox, he went ahead and swatted two more bombs, beginning with a sixth-inning shot off Dallas Keuchel. But it was the second one that made the game interesting, and just about made this announcer lose his mind:
JONATHAN SCHOOP IS A MAN POSSESSED
pic.twitter.com/BZyZk3aw1Q

— Barstool Detroit (@BSMotorCity) June 5, 2021
The Tigers would end up taking the lead in that inning after trailing 6-2 when Keuchel left the game. A Yasmani Grandal homer tied it, setting things up for Schoop to take it home in the ninth. But Garrett Crochet wanted no part of Schoop, and walked him on five pitches. That's when he was removed for a pinch-runner, and one can only assume the Tigers were hit by a karmic shock as a result. They did not score, and the Sox walked it off in the bottom of the inning.
Still, it was one heck of a week for Schoop, who hasn't hit over .260 for a full season since 2017. A turnaround like that requires a certain amount of gnatitude, and I respect it. Congratulations Jonny — you've made it.