Editor's Note: Dave Fisher originally published this piece on Feburary 22, 2019, and we felt today was the perfect day to give it new life. Enjoy April 1st!
The Detroit Tigers need a spark this season. A catalyst. An acquisition that can help their franchise to win more games. Something to give their fans a bit of optimism in management. Some excitement. All while not sacrificing their future in any such way.
Detroit's coming into this season projected right around 66 wins. They're also coming off a season in which the team finished near the bottom of the American League in most hitting categories including runs scored, walks, stolen bases, and OPS (thank God for the Orioles, right?). And furthermore, the Tigers leadoff hitter this season will be determined by the winner of a momentous spring training battle between newly acquired second baseman Josh Harrison and the oft-forgotten center fielder JaCoby Jones.
Who exactly is JaCoby Jones?
Seriously. Our graphic designer couldn't even tell if that was him in the featured image.
This past season, Jones was worth 1.2 fWar. In 467 at-bats, he scored 54 runs and had a batting line of .207/.266/.364 while striking out 30.4%, he had a 72% success rate on the base paths.
Hey, this year he could be different. Maybe Jones will be decent.
Steamer, unfortunately, projects Jones for a disheartening .654 OPS in 2019 with a just as depressing 77 WRc+. That would be near the bottom of the league for leadoff hitters, and if we're being honest, not great for any hitter in any part of the lineup.
Maybe the Tigers need something else to give some hope to fans, the team, and the city of Detroit. Give them a reason to root for their team, game in and game out. And the one question every Tigers fan wants to know is: Should the Detroit Tigers replace JaCoby Jones with an actual tiger?
In order to answer this axiomatically important question, we'll have to examine a few different areas: speed, fielding, hitting, how plausible all of this, and most importantly, merchandising.
Before we get into all that however, let's take a look at what I'll call the Air Bud Factor.
The Air Bud Factor
Much like the titular character Air Bud from the award-winning film Air Bud: Seventh Inning Fetch, we're assuming the tiger would be able to somehow make everything work.
The tiger would, therefore, be able to run full speed to any ball and gently catch the ball in its mouth. The tiger would be able to run full speed down the base paths. And the tiger would be to somehow hold a baseball bat in its mouth, swing said bat, and in some way, shape, or form hit the ball with some sort of power.
Here's an example of how this would work from Seventh Inning Fetch.
Speed
According to Baseball Savant, Dee Gordon, Billy Hamilton, and most of the other speedsters around the majors got up to around a 21 mph top speed this past season.
According to the encyclopedia, a tiger can reach a top speed of 35 to 40 mph, even at their average weight of around 400 pounds. Thankfully baserunners are no longer allowed to run over the catcher at the plate, or we might have to employ multiple morticians for every ballpark.
Fact: Tigers are fast.
Another fact: JaCoby Jones is not a tiger.
Conclusion: Tigers are faster than JaCoby Jones.
Fielding 
As talked about in the above Air Bud Factor theory, the very real tiger, much like the fictional Air Bud, would in some way be able to run full speed to any fly ball or line drive and catch that ball in its mouth. So hypothetically, the tiger would probably catch any ball even remotely close to his proximity.
The last outfielder to have a perfect fielding percentage was Mike Trout in 2015.
The tiger would most likely be looking to flirt with that perfect fielding percentage while catching a lot more of the tough plays. It also wouldn't be out of the realm of possibility for the tiger to come close to Chet Lemon's outfield putout record of 512 putouts back in 1977. We're talking about quite possibly the greatest defensive outfielder in the history of the major leagues. The tiger, that is. Not JaCoby Jones.
Unfortunately, with fielding also comes a very un-tigerlike obstacle. Would the tiger be able to throw the ball once it's caught? Probably not, which eliminates most assists and any chances at a double play.
I think the most adequate solution would be to use a shift where the tiger plays the entire shallow part of the outfield, while the other two maintain the back wall of the outfield. That way all the other two outfielders have to worry about are deep flies, gappers, and home run balls. Also, if the tiger catches a line drive or hard grounding single in the shallow depth, an infielder will now be close enough to grab the ball nestled in the tiger's mouth.
Hitting
Much like Barry Bonds with the Giants, the tiger would be the most-feared player in baseball. Pitchers would be scared to throw near him. Catchers would be afraid to call an inside pitch. Umpires would be scared to call uncertain strikes. Mainly because if you hit a tiger with a baseball, you aren't going to make it to the next hitter. Also, tigers are known to crowd the plate.
Similar to the Air Bud example from above, the tiger would somehow be able to hit the ball with enough power if he gets a piece of it, but more often than not, he's going to get walked. I mean we can dig deeper, but he's 400 pounds and because he stands on on all four legs has a strike zone that makes José Altuve look more like José Thome. He's going to get on base.
In fact, it's not hard to see a scenario where the tiger somehow hits for lower than a .100 batting average, while still able to get on base at an absurd .500 clip. JaCoby Jones' eyes widen thinking about that on-base percentage. And the tiger's eyes widen thinking about taking JaCoby Jones spot in the lineup.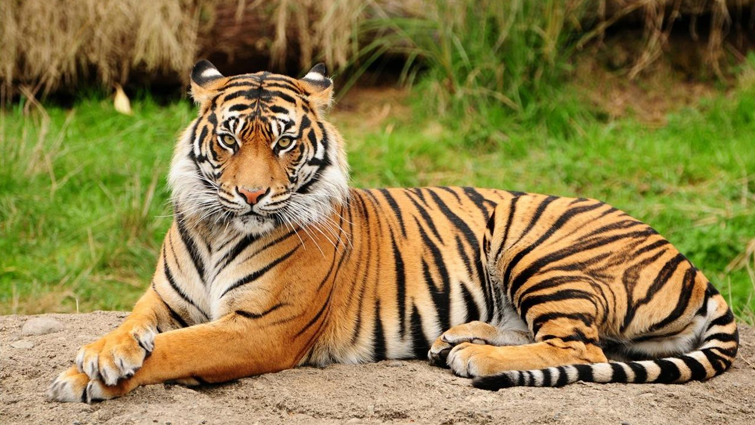 Baserunning
As we're seeing, this tiger is gonna get his walks. But what can he do with them?
The major league average speed on a competitive play on offense this past season was 27 feet per second, with the elite speedsters such as the aforementioned Hamilton, Byron Buxton, and Trea Turner all clocking around 30 feet per second. But, like, c'mon! It's a tiger. He's prob going to hit closer to 50 to 55 feet per second, maybe more. And that tiger's even more impressively going to reach those bases almost twice as fast as your average JaCoby Jones.
JaCoby Jones stole 13 out of 18 bases this past season. Meanwhile, the tiger bought 400 pairs of baserunning gloves. One set for every base he's going to steal. Although, tigers stand on all fours, so a set of gloves to them is actually two pairs. That means that tiger's thinking he's going to steal 200 bases. Move over Rickey Henderson. Look out Jacoby Ellsbury. And get out of the way JaCoby Jones; that tiger's looking to skunk you.
Can a tiger run counter-clockwise?
I don't know. Hopefully, he'll figure it out. But if not, hey JaCoby Jones finally gained a point in his favor!
Merchandising
Even in present form, the Detroit Tigers still sell the 10th-most MLB jerseys. With Miggy's decline, Justin Verlander's departure, and JaCoby Jones being JaCoby Jones, the Detroit Tigers are going to have to figure out who their next fan favorite will be. And who better than a tiger?
On top of jerseys, pretty much any type of production line can use this tiger as their star. He's a tiger.
Let's look at some other famous tigers: Shere Khan, Tigger, the tiger from Life of Pi, Tony the Tiger, Hobbes, and Woods. All great tigers. The Detroit Tigers' tiger would be a welcomed addition among fans and patrons of tiger-like goods.
As claimed by Tigermerch4Sale.net, a site that sells tiger merchandise for sale, tiger products sold in America this past year made approximately $3 trillion. That's a pretty good chunk of money that would make it seem like this investment in a tiger center fielder could surely pay for itself.
Alternatively, as claimed by JaCobyJonesmerch4Sale.org, a site that sells JaCoby Jones merchandise for sale, JaCoby Jones products sold in America last year made approximately $300. And it was the wrong Jacoby Jones!
So let's get back to the original question:
Should the Detroit Tigers Replace JaCoby Jones with an Actual Tiger?
Yes.
Graphic by Justin Paradis (@freshmeatcomm on Twitter)