With the news that Bryce Harper has FINALLY signed with a team, the Washington Nationals can get on with their Spring Training knowing that they will be without their star slugger. The offense is still explosive though, stacked with five-tool players, stud hitters, crafty vets, and speedsters alike.
Second-year manager, Dave Martinez, has been figuring out all off-season what he plans to change this upcoming season to get back to contending for the World Series. Martinez has been working with Anthony Rendon to hit for a bit more power. He's stated he wants Michael A. Taylor to shorten his swing. And now, the Nats manager has said he plans to have Matt Adams steal more?
How much more?
Martinez was asked this question by a few bewildered Nats beat reporters. He answered: "A lot more."
Dave Martinez took over the reins of the Nationals Skipper role last season after the team endured two laborious years with the notoriously old-school manager, Dusty Baker, who was known to have his guys steal as many bases as they possibly could. Baker said he thought Martinez was "making the right decision." And went on with, "Hey, if second's open, ya gotta have your guys take it."
It was reported early Friday that Martinez called Matt Adams into his office this week and told the slugger he wants him to attempt more stolen bases this season. How many? Let's just say even the oft-sluggish Adams was taken aback.
"Yea, he gave me a number," Adams said. "And I was like: 'Wow, all right.'"
Martinez later revealed to assembled reporters that he thinks if Adams "attempts 75-80 [steals], we'll be in great shape."
As most reporters followed that announcement silently in a state of confoundment, one reporter asked the Nats manager if he was sure. Martinez replied with a wide grin, "Yup."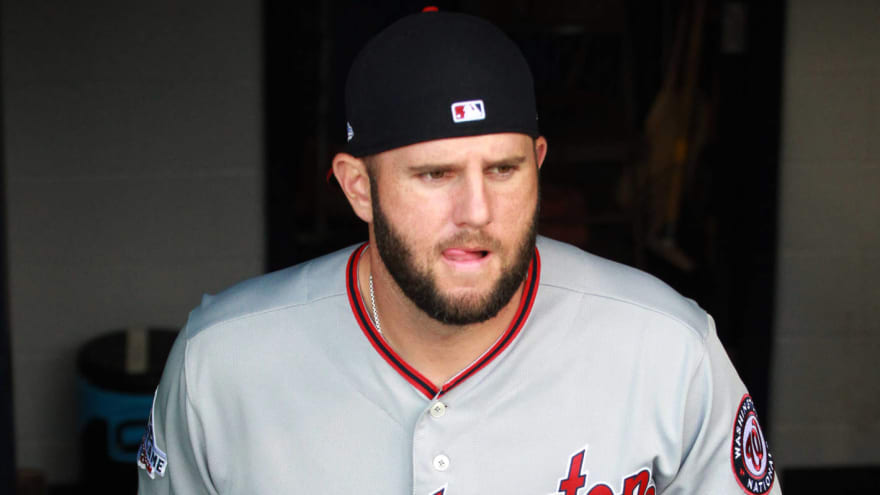 Surprisingly, Adams was not the National League leader in stolen bases last season as he had 0 total stolen bases on 0 attempts. The year before he also attempted 0, and only has four total stolen bases for his career out of eight attempts. Only four players have attempted 80 or more stolen bases in the past ten years, so 75-80 would be quite the number. Especially for a ballplayer not known to be the swiftest on the base paths.
If anyone is jazzed about this new revelation, it's Adams who carries the nickname "Big City" and loves to show off his sneaky speed. Out of 349 eligible baserunners who were involved in at least 75 competitive plays running the bases last season, Adams ranked 285th with an average sprint speed of 25.9 feet per second. Smooshed right in between Mike Zunino and Francisco Cervelli. Now, that'd be one hell of a hoagie. 
It'll be interesting to see what Matt Adams can accomplish this season. But, one thing's for sure, his manager believes in his ability to help the team by any means necessary. And if Adams reaches first base this season, there's a very good chance he's gonna get thrown out attempting to steal second.
(Photo by Douglas Stringer/Icon Sportswire)